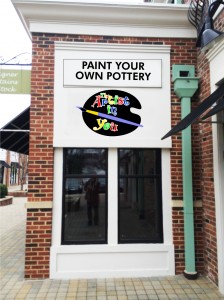 ABOUT THE ARTIST IN YOU
The Artist in You is located in Louisville, KY at The Vogue Shopping Center. The studio was originally founded in 2001 and is currently owned and operated by Sharon Weis.
The Artist in You is focused on making the most artistic, enjoyable experience for each and every guest. The quality time you spend with family, friends or by yourself is as important as the personal piece of art you created. Customer service remains a priority and we will help enhance your creative talent to enable you to bring out the ARTIST IN YOU!
Address:
The Artist In You is located in the Vogue Center
3733 Lexington Road
Louisville, KY 40207
(Next to Coals Pizza)
Extended December Hours:
Mon 12/18 to Thu 12/21: 10:00 AM – 8:00 PM
Fri 12/22 to Sat 12/23: 10:00 AM – 6:00 PM
Sun 12/24 and Mon 12/25: CLOSED
Studio Hours:
Tue-Sat: 10:00 AM – 6:00 PM
Or by reservation for parties or groups of 10 or more
Our last seating time is one hour before close.
PROMOTIONS