BEGINNER PAINT CLASSES (Cost $12 + Pottery)
Learn tips of the trade in our BEGINNER PAINT Classes! An Artist in You Instructor teaches you each technique with step by step instructions on our detailed project! The cost of the class includes all patterns, tools, supplies, glazing, and firing.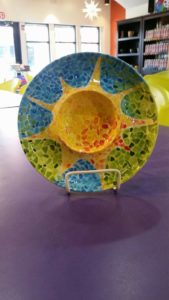 Sun Chip & Dip
Friday, July 21st 6:30 PM – 8:30 PM
(Cost $12 + Pottery)
GIRLS NIGHT OUT
Classes are designed for adults only. Enjoy a night out with your friends…ladies bring your favorite beverage and head over for some creative bonding! Plan your next girl's night out, bridal shower, baby shower, birthday party or bachelorette party with us!
MOMMY & ME
Our Mommy and Me classes are designed for parent and toddler to work together on a handprint oriented project. The class is designed for toddlers through Pre-K. Our instructors give participants step by step instructions so both mother and child get lost of hands on time. When you are finished, you will have lots of smiles and giggles along with a project that will provide lasting memories for years to come!
POTTERY PLAYGROUND WORKSHOP
Our POTTERY PLAYGROUND is the perfect chance for kids to enjoy a creative morning at the studio! Children will receive personal instruction to create their personal work of art. Kids will discover bright, creative ways to express themselves through canvas, pottery, glass and clay! Ages 6+